Creating the proper flow of color from room to room, or even within a single room, can really transform the look and feel of a space. The presentation of your home or business says a lot about a person, walking into a home with walls entirely of beige could portray the owner as a cautious decorator, or a home with rooms jumping from aqua to pink could depict the owner as imaginative.
Having a the advice of a personal decorator isn't a luxury everyone has, but everyone deserves to have a home that captures their personality in the design. Finding the perfect color scheme is easier than you think. Here is a simple way to find a scheme that is entirely your own, and it all starts with one single piece.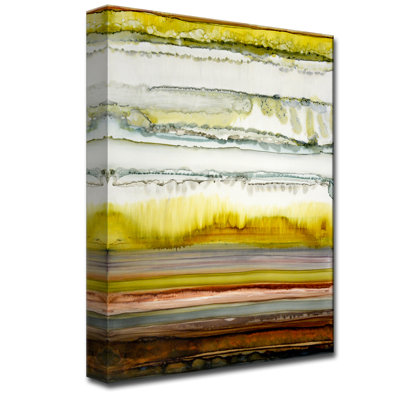 Let's start with 'Equinox' by artist Norman Wyatt Jr. No art degree needed to understand the movement of lines, sometimes paintings just stand out. The wonderful thing about this simple process is that ANY painting can be used, just make sure that the piece you choose speaks to you.
For this example I chose a painting with many colors, working with less color may be preferred by the less daring decorator, but regardless this process is bullet proof.
The second step is picking up on the individual tones within the piece. (CHEAT: copy and paste an image of your desired painting into Microsoft's Paint program or Apple's Paintbrush. Using the color picker tool click on the different colors and create a map of the individual colors)
It's not important to choose the most visible colors from the painting. You're picking from a color pallet that already appeals to you, even though your color map doesn't look all that appealing. Trust the process.
Many large paint retailers offer color matching services as well, just to make your life that much easier, but this map isn't just for your walls. You can pick all textures from your map, including furnishings and decor. Shopping online makes it easier, you can often search pieces by color choice.
Find pieces that have the function you need. Below I chose pieces inspired by the selected colors from websites like Wayfair and Overstock for the purpose of a comfortable living space.
When it comes to painting walls throughout your home, choose up to four colors from the map and experiment with the moods of each room. Create the pallet that colors your home.
Capstone Magazine